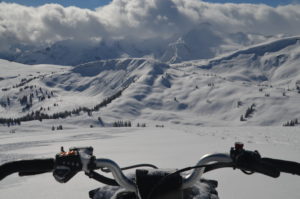 The Experience
Valemount's prized jewel with elevation ranged from 6,000 ft. – 8,000 ft., as this area can hold some of the best snow in the valley. A scenic, 26km trail leads you up to some of the most abundant snow in the Valemount area.
NOTE: To download the GPS info located on the right, right click the Download GPS button and click "save link as" then save it to your computer. This file can be used with all GPS devices.
Grooming
This is a VARDA managed area, although there is no cabin or outhouse facilities located in the alpine. This is a long trail in and we do our best to keep it maintained to standard, although due to high grooming costs, the area only gets groomed once a week and can get a bit rough.
Trail Access and Parking
The 26km, scenic Chappell Creek Trail is easy to ride under normal, groomed conditions. The trail is located 58km south of Valemount to the west side of Hwy 5. The trail system partially uses the FSR roads, fire and skid trails to gain access to alpine areas at the headwaters of Chappell Creek.
Closures
Chappell Creek is a Caribou Sensitive area, please follow the area boundaries, encourage other riders to do the same and report any witnessed infractions to the drop box in the parking area. Downloadable files are available on the right hand side of this page to help you identify where you are in relation to the boundary.