Snowmobiling in the Valemount area is second to none when it comes to accessible area, open spaces, amazing scenery and POWDER SNOW!
No matter if you are an hard core adventure seeker or just wanting to get our for a nice recreational ride, there is terrain around Valemount for all levels of riders.
If you're not familiar with the area or do not own a machine of your own and want to give it a try, there are guide services and snowmobile rentals available.
If the information your are seeking is not found on this website, please feel free to call our office directly to speak with a member of the VARDA staff at 250-566-4817. Our staff are highly informed and love chatting about anything relating to snow, so please do not hesitate to pick up the phone and call.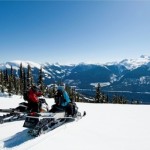 Allan Creek
The Allan Creek trail is the first to open each season in the Valemount area and its lakes, bowls, meadows, and steep hills make it a favorite. This is a very large area and only the experienced should travel to the far ends. Family riding can be found around the cabin and lakes as soon as you enter the alpine. Please sign in and out in the cabin record book.
Valemount to Blue River Winter Recreation Area