Dear valued sponsor,
New ideas, new incentives, and an amazing offer.
March 2020 brought something with it that has affected us all. No matter what sector of the commercial industry you are in, we have all been affected by COVID-19 in one way or another. We cannot continue to look back, but choose to look forward and work together to build back our economy and support for the industry we all love so much.
If you are receiving this package, you have been a valued supporter in the past or you have a link to the recreation industry as a stakeholder or caring participant. The recreation industry is a passion for many and it is one we believe can survive our current state if we all continue to work together.
We understand the situation for many of our supporting businesses and new potential sponsors may be uncertain. But we also believe that continuing our partnerships will be the way to all of our future success.
VARDA has thought long and hard of ways to continue to work with our supporters and we believe that we have a great offer to present this year. We sincerely hope that you will continue to work with us going into the 2020/21 season, and help us develop and promote more outdoor opportunities in the Valemount area.
It's no secret that Valemount holds some of the best all season outdoor recreation opportunities in British Columbia. The Valemount & Area Recreation Development Association (VARDA) is the trusted manager, developer, and promoter of outdoor recreation in the Valemount area. We strive to make Valemount one of the most sought-after four-season destinations in North America.
Our efforts affect and enhance life in our community, for residents and visitors alike. Our recreation opportunities provide a venue for many activities related to the great outdoors.
VARDA has worked diligently over the years to make Valemount a four-season destination. We have a history of some of the best alpine and backcountry winter access out there. After much effort, we are now emerging as a sought-after summer destination as well, with offerings of world class opportunities for mountain biking, ATVing, hiking and general outdoor adventures.
The relationship between VARDA and its stakeholders is crucial. A lot of VARDA's success is attributed to our sponsors – YOU! We are extremely honoured with the
level of support that we receive and in the level of return we can offer to you for your investment in us.
There are many reasons to support VARDA and we believe its more important this year than ever. Together, we can continue to promote and develop a strong outdoor
recreation industry and culture. Let's meet this challenge together.
We look forward to working with you!
SOS! Save Our Sponsorship
Covid Plan
VARDA needs your support to do what we do. We also understand the situation that most of our supporters are in, but believe we will get through this better if we do it together.
Maintaining our relationships through this difficult time is crucial, and VARDA would like to offer a 50% reduction off our regular pricing to those who need it and who choose to maintain their previous sponsorship level.
If you can support us at the regular rates, we sincerely appreciate it. Please read on as we are offering additional incentives for Full Rate sponsorships.
This is a confirmation of Sponsorship only, so we can meet deadlines for print materials. All sponsorship payments are not due until
January 31, 2021.
Sign Up HereDownload Sponsorship Package (.PDF)
Please complete your expression of interest below & submit payment by mail to VARDA, Box 721, Valemount BC, V0E 2Z0 or scan and email a completed form to info@ridevalemount.com or fax to 250-566-4817.
Still want to show your support, but it's after January 31, 2021? Please contact the VARDA office at info@ridevalemount.com. We cannot offer the full gambit of incentives due to our print materials needing to be created for the trade show season, but we're happy to support your inquiry as best we can!
Why Support Us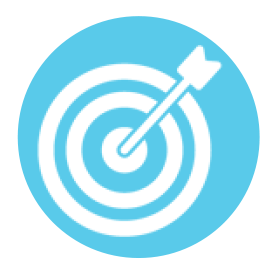 Our website and social media efforts are a very strong medium and will continue to gain strength and recognition for all involved. VARDA is the go-to for all things outdoor fun.
VARDA's print materials are extremely popular are extremely popular and have a large distribution channel. This popularity allows us to showcase our sponsors and their products to a very targeted group of people. We believe that we provide a strong return on your investment with us.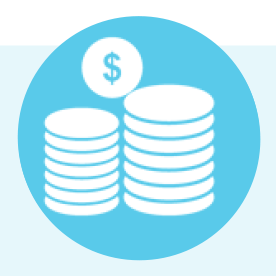 Your sponsorship fees are tax deductible as a marketing expense and depending on your level of participation, they include many benefits and incentives including:
Listings and links on the VARDA website and our four-season Area Guide
Representation and advocacy at trade shows
Direct conditions updates via email campaign
Membership privileges
Snowmobile cabin and parking lot signage
Trails passes, marketing materials and more

SOS – read on for more details about added incentives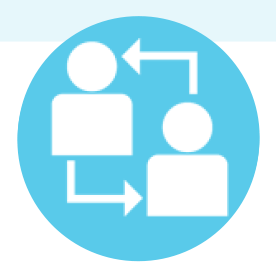 VARDA looks at sponsorship as long-term relationship. We truly feel that whether you are involved in the recreation sector or just able to support one of your favorite pastimes, there is no better value for your dollar. Please review the information on the attached sign up page and feel free to ask us any questions you may have.
Note, that we are only asking for confirmation of support currently, in order to meet printing deadlines.
Thank you for your consideration.
Sincerely, Curtis Pawliuk, General Manager
Sponsorship payments are not required until January 31 2021.
Sign Up HereDownload Sponsorship Package (.PDF)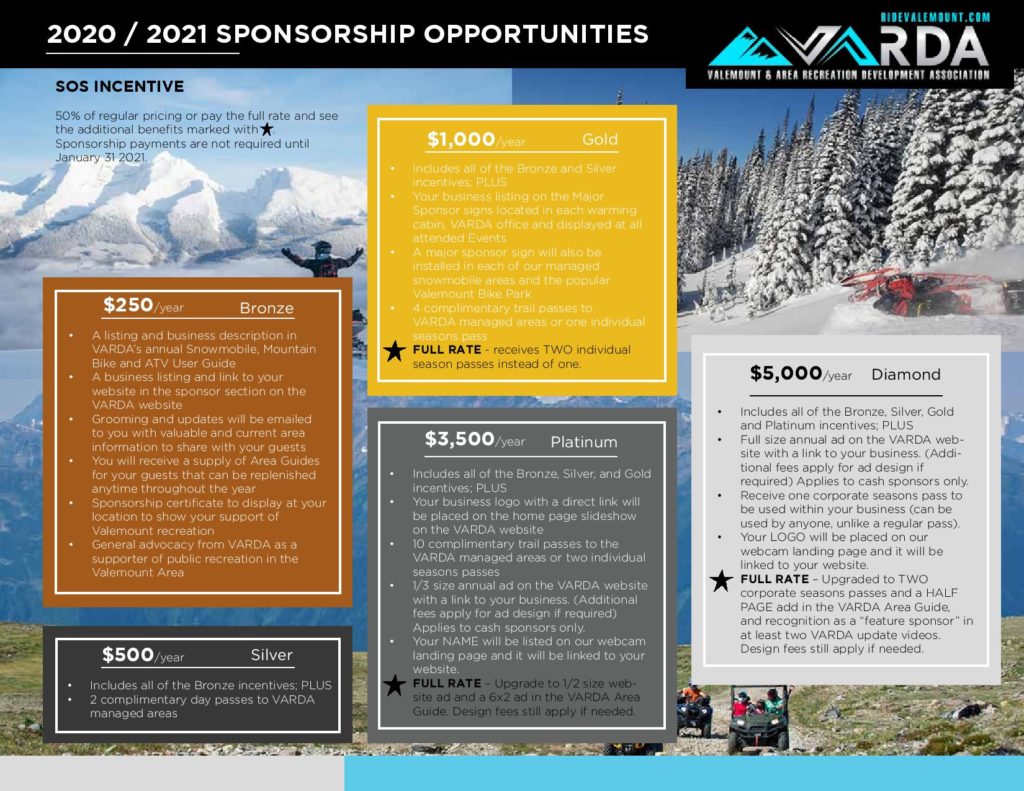 Bronze




$250

Silver




$500

Gold




$1,000

Platinum




$3,500

Diamond




$5,000

Membership privileges for VARDA
A listing and business description in VARDA's annual Snowmobile, Mountain Bike and ATV User Guide
A business listing and link to your
website in the sponsor section on the VARDA website
Grooming and updates will be emailed to you with valuable and current area information to share with your guests
You will receive a supply of Area Guides for your guests that can be replenished anytime throughout the year
Sponsorship certificate to display at your location to show your support of
Valemount recreation
General advocacy from VARDA as a supporter of public recreation in the Valemount Area
Complimentary trail passes to VARDA managed areas
(2 trail passes)
(4 trail passes or one individual season pass)
(10 trail passes or two individual season pass)
(10 trail passes or two individual season pass)
NEW - All Silver and higher sponsors will be added to the credits on any VARDA related video updates
NEW - A major sponsor sign will also be installed in each of our managed snowm bile areas and the popular Valemount Bike Park
Your business listing on the Major Sponsor signs located in each warming cabin, VARDA office and displayed at all attended Events
Your business logo with a direct link will be placed on the home page slideshow on the VARDA website
Recognition with your logo and name as the feature sponsor on at least one VARDA online video update.
Annual ad on the VARDA website with a link to your business. (Additional fees apply for ad design if required) Applies to cash sponsors only.
1/3 size website ad
full size website ad
Receive one corporate seasons pass to be used within your busi-ness (can be used by anyone, unlike a regular pass)
Additional marketing opportunities
SOS incentive
We are offering discounted pricing on all advertisements for sponsors wishing to use the SOS incentives this season.
VARDA Membership Perks Program
As a sponsor, you may choose to offer an exclusive discount or incentive at your business to VARDA members and drive more traffic through your doors.
The annual list of available VARDA Perks are sent to existing members upon renewal, posted on our website, in chat forums, throughout social networks and brought to all attended Snowmobile Shows.
This is a great opportunity to attract new customers to your business and really aids our club in attracting new members. Create a fun VARDA Perk today!
VARDA's Four Season User Guide
VARDA's annual Snowmobile, Mountain Bike and ATV user guide is NEWLY a four season guide. It has a circulation of approx. 8,000-10,000 copies.
Ad spaces are available to VARDA sponsors only, so don't miss out! Space is limited and ads are available on a first come, first served basis. Showcase your seasonal special or sale, or simply make sure readers are aware of what all your business has to offer.
Ad sizes available are approx. 3"x2" ($300 $250 +tax), 6"x2" ($500 $400 +tax), and Half Page ($700 +tax). You must provide the ad, for which exact sizing will be emailed to you.
Graphic design can be arranged for an additional fee.
Website Advertising
VARDA's main website, www.ridevalemount.com, receives 30,000-40,000 visitors per year. During winter, we publish regular trail grooming and snow condition updates, which is a popular feature and big attraction to gain visitors to our website. We feature website ads on the most visited pages such as Grooming Updates, Snow Conditions, and Sled Area information pages. Ad sizes available are:
Half (290 x 200 pixels) – $275

$250

/ year +tax
Full (290 x 400 pixels) – $400

$375

/ year +tax
Website ad space is included in Platinum and Diamond Sponsorship Levels.
Sign Up HereDownload Sponsorship Package (.PDF)

Sign Up Here
A lot of VARDA's success is attributed to our sponsors – YOU! We are extremely honoured with the level of support that we receive and in the level of return we are able to offer to you for your investment in us.
This is a confirmation of Sponsorship only, so we can meet deadlines for print materials.Sponsorship payments are not required until January 31 2021.