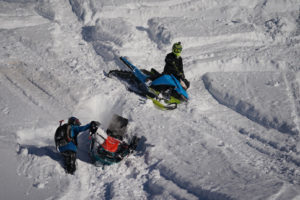 Supporting the club in your favorite riding area is more important than ever before. Be proud to be a club member and support the club in your favorite riding area! We're hard at work for YOU, and a membership to VARDA is a great way to show your support for your favorite club.
Please note that VARDA has two separate categories of membership due to our seasonal offerings and need to separate funds. If you are looking to support our local mountain bike trail system by coming a MTB Trail Member, please follow the info in this link.
A basic Winter VARDA membership for the 2020/ 2021 season is only$40.00. Included is a membership to the British Columbia Snowmobile Club, which supports many clubs in BC and also provides you with exceptional benefits on insurance.
VARDA Members receive many exceptional benefits at businesses throughout Valemount, you'll receive VARDA updates via our membership email list, and you get to vote on matters at hand at the VARDA General Meetings, which are held throughout the year. Membership expires after the completion of the Annual General Meeting (AGM).
We have move to a SILKSTART membership program and it has never been easier to sign on. If you are a current member but forget your password, simply click the forgot password button and follow the commands.
General winter memberships are $40.00 and a Seasons Pass (membership included) is $250.00
Membership is more important than most of us think. There is power in numbers and our industry needs to stand together for a strong voice! Hopefully this helps makes things easier and more of you will sign on. Please ask your riding group to do the same!
Thanks a lot for your consideration and support of Valemount.
Please do not hesitate to call me with any questions.
See you on the snow!